Digital Marketing Strategy : Ultimate Guide 2020
You know that you need a digital marketing strategy, but you might be unsure or overwhelmed by the prospect of how to go about collecting all the necessary information needed.
Before we get into the steps, let us ask ourselves this first: what is the purpose of a Digital Marketing Strategy?
Why Create A Digital Marketing Strategy?
First and foremost, you need to know exactly how your target market thinks and interacts with the online world. What channels do they frequently use? What are their search patterns? Ultimately, how do you use this information to get them to convert.
Basically, your digital marketing strategy will cover:
what your goals are (for example attract 30 new leads per month);
who your target market is (for example "business owners" or "shopaholics ); and
what online channels you will use to reach them, digitally.
Step 1: Who is your target market?
Before you jump into your strategy, you need a starting point. This should be who your target market is. Better understanding this from the beginning will better direct you through the entire process.
It is time to sit and have a brainstorming session about who interacts with your business model, and purchases your products or services. Who are they? What similar characteristics do they all have in common?
Consider the following:
Individual consumer (B2C) or Business (B2B)
Age bracket
Gender
Level of education
Industry they work in
Job title they have
Size of business they work in
Which online platforms do you think they use? (Facebook, Twitter, Linkedin etc)
Priorities
Interests/Hobbies
Challenges/problems they face (Time poor, small budget, no tech skills)
From the above you can create a 'buyers persona' of sorts to better drill down your targeting efforts. For example, your buyers persona may look like this:
Individual consumer (B2C)
35 -45 years old
Female
Masters Degree
Fashion
Business Owner
20-50 employees
Linkedin, Facebook, Youtube, Pinterest
Create trendy and fashionable looks all year round, as well as having world class customer service capabilities.
Drawing, Sewing
Not enough time in the day, not super tech savvy
Finding out the above, you may stumble across the fact that your target market actually has more than one personality. It is a good exercise to do the above several times over until you have completely understood the dynamics of your audience. Just looking at the above information, you can better target all of your digital marketing efforts to best engage and convert the given target audience. A fantastic tool to help you create your target persona is Hubspots Make My Persona.
An example of this could be writing a blog that assists the construction industry with a digital marketing plan, or ideas.
Step 2: What is your current digital presence?
Think of your website as the hub of your digital efforts. Does your current website hold space in the digital world? Can people find it?
Your website is the cornerstone for information that effectively connects to your potential customers. With mobile phone search activity increasing, ask yourself; is my website mobile friendly? Is it responsive for all devices sizes and types? Is it user friendly?
This might be a good time to think whether or not your website needs a revamp, and if search engine optimisation needs to be better managed. Many businesses don't understand the importance of a good SEO strategy to better position themselves against their competitors.
Step 3: Write content that your audience will find helpful
One of the most important elements of a great digital marketing strategy is how you will connect with your audience through content that will prove useful to them. You want them to feel like you care, but that you also offer authoritative expertise in these fields. This assists in building the element of trust, which all businesses need to create a loyal customer base.
Within these pockets of content or blogs, you can also delve into how your products and services can further help them. You can use your content to your advantage.
One thing many businesses battle with is actually coming up with topics for their content. A great tool for this is Answer The Public. Something to consider here is reverting back to your Search Engine Optimsation strategy to best ascertain the keywords needed for ranking purposes.
SEO tips to help the content and your website rank in search engines like Google:
Determine what topic (or keyword) your content is about (for, example "digital marketing strategy")
Include topic in URL, Meta Title, Meta Description, Image file name, Image alt tag
Link to other relevant pages within your website and useful resources using text within your article. Also link to other high authority websites (for example industry or related government websites) on the web.
Meta description is the text that shows up in the search engine results, under your Title and URL. Write a meta description that includes your topic and entices the reader to want to click.
Install SEO plugin like Yoast SEO to help – https://en-au.wordpress.org/plugins/wordpress-seo/.
Make sure that your blog has a very catchy title. This needs to be to the point, but offer enough insight into the main point of your article. A tool that can help with that is Tweak Your Biz's Headline Generator.
Create a blog page on your site, and populate it with all of this new and amazing content created specifically for your audience.
Step 4: Email Marketing Tactics
With this newly created content, you have an extra avenue of information you can offer your emailing list. Something new and exciting that also leads traffic back to your site, and in the process moving people down the conversion funnel.
Step 5: Share your content to your social media profiles
Social media is the perfect avenue to engage with current and potential customers. By sharing your blog content with them on your various social platforms, it creates another traffic generating avenue for your website.
Step 6: Create a backlinking strategy
One of the best ways to increase your online presence is through a well thought out backlinking strategy. This is where other sites link to your website articles from one of theirs. This is another traffic source for your site, as well as an opportunity to rank higher in Google's search engine results pages.
An idea is to look for resource based websites where your content could add value. Remember, to really benefit from backlinking, you need to find websites that rank higher than you do in SERP's. That way you know they will be seen for the given topics and can offer a flow of SEO ranking juice to your site.
Resource page link building steps:
1. Go to Google and search this query "[topic] intitle:resources", in the example below we have used "accounting" intitle:resources

2. Find a resource page that seems to be linking out to other websites content (ideally similar to the article you've produced).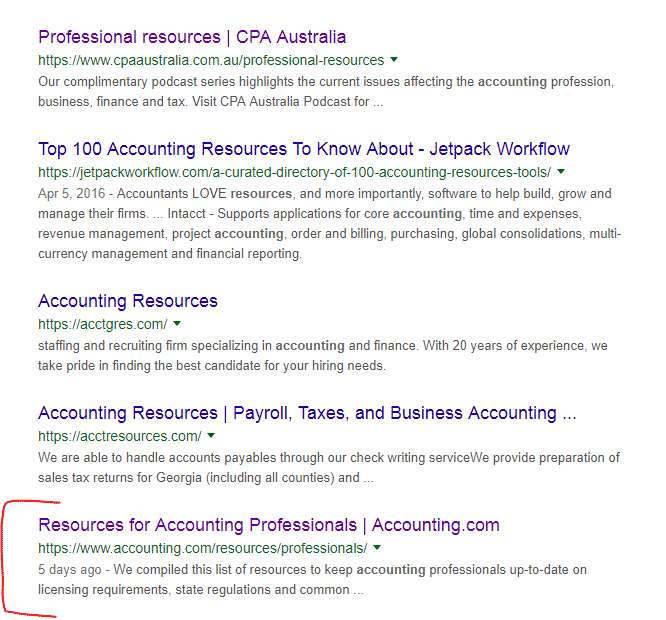 3. Go to a broken link checker like Dead Link Checker, search the URL of the website you found above and 'check' for broken links.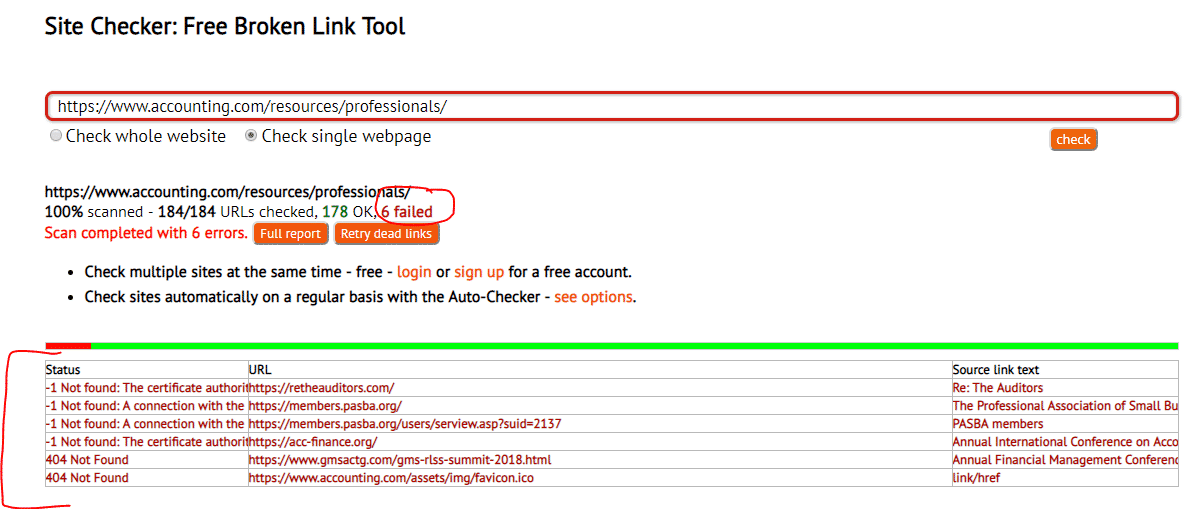 4. Find the website owner contact details.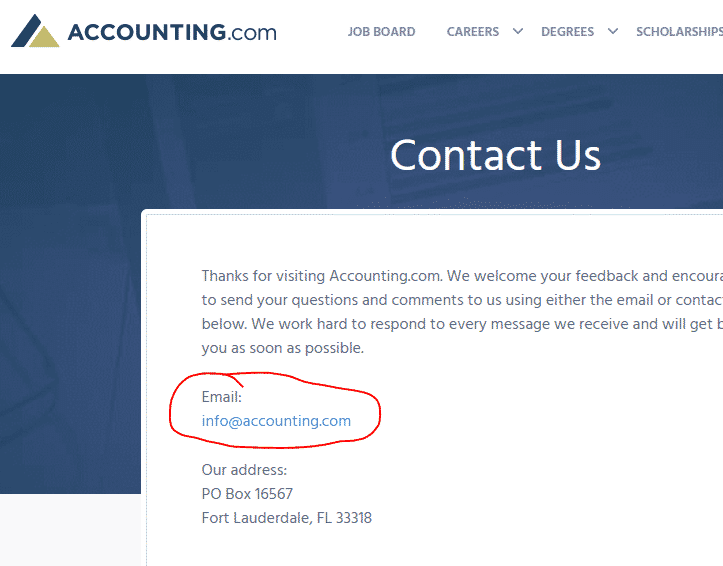 5. Write the website owner an email from your business email. (not Gmail) letting them know they have broken links:"Hey [Website Owner Name],I noticed that [Link that is broken] link on [page name] is broken…looks like the website doesn't exist.I thought you might want to replace it.I've recently create a [name of your resource] which might be a good replacement? Let me know if interest and I can send you the article to take a look.Cheers[Your Name]"
The aim is to get a response from the website owner in order to get them to add your website link to their site.
Step 7: Wash, rinse, repeat
Digital Marketing is about constantly optimising and adapting. Always make sure you are top of trends happening within the digital marketing space. A great tool for this is Google Trends.
Make use of analytics and the data it provides. Make use of Google Tags, Google Analytics, Facebook Pixel and all forms of social media insights to better gear yourself month in and month out.
Finding the above overwhelming, we can assist you.