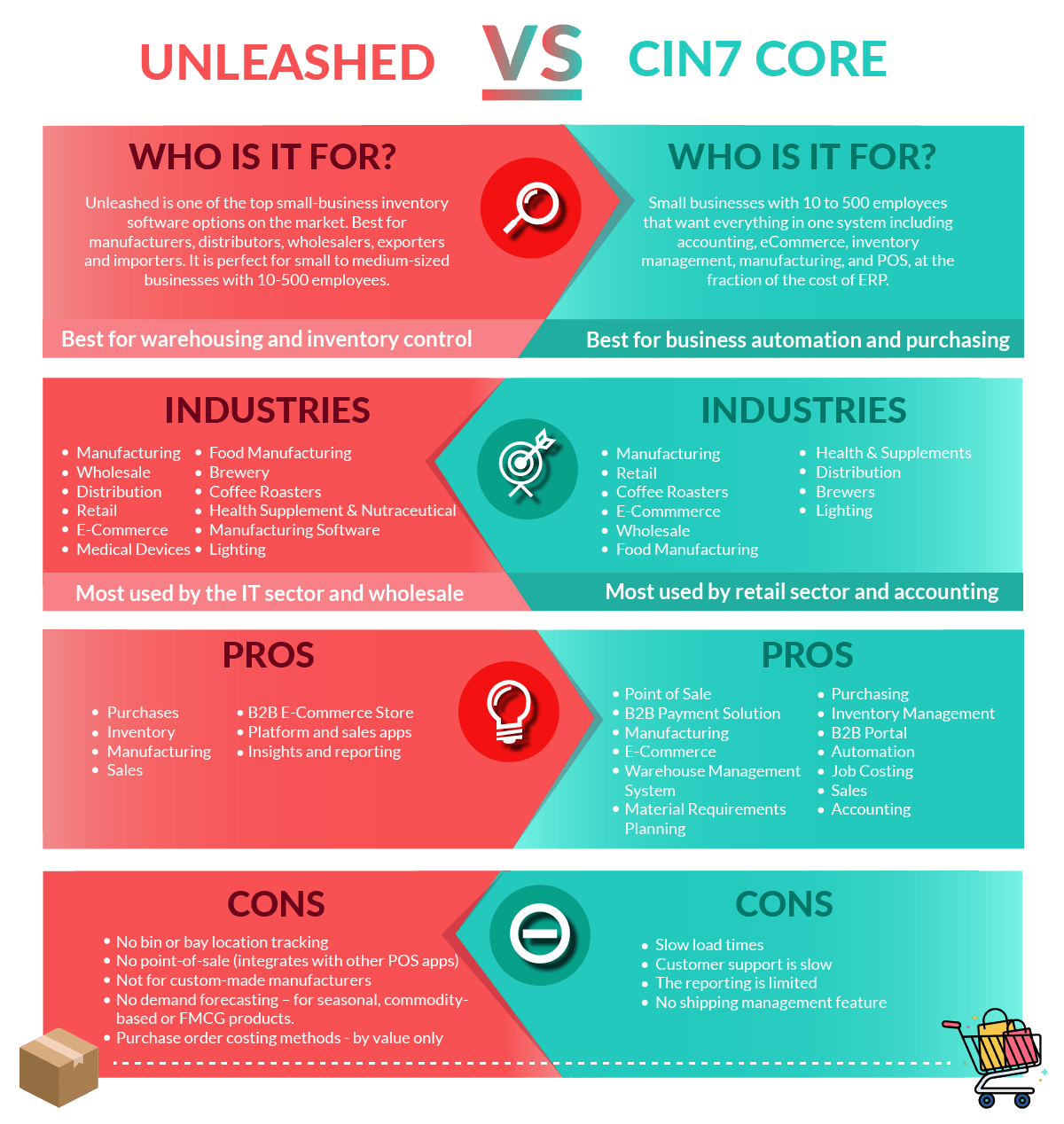 Trying to stay on top of all your business needs, inventory management and operations can be challenging, especially as your organisation expands and becomes more complex. A comprehensive programme like Cin7 Core (previously known as DEAR Systems) or Unleashed Inventory Management can be very useful in this situation. Let's take a look at the similarities and limitations between these software options.
Cin7 Core
As soon as you have multiple products that require a warehouse, you'll want to keep track of the receiving and storage. Cin7, a leading provider of inventory and order management software, is the owner of the cloud-based ERP package Cin7 Core. It helps with everything from inventory control to reporting and automation to the integration of manufacturing and sales. It is ideal for production, wholesale, and retail.
ERP stands for enterprise resource planning. It's a type of software that you can use to streamline day-to-day business activities such as accounting, procurement, project management, risk management, and supply chain operations. There are different ERP software options available and which one your organisation uses depends on your business size, industry and specific requirements.
Who is it for?
Cin7 Core is great for small to medium sized businesses with 10 to 50 employees that want everything in one system, including accounting, e-commerce, inventory management, manufacturing, and POS, at a fraction of the cost of other ERPs.
Features
Warehouse Management System (WMS) is an efficient system that aids in your order fulfilment processes. You'll be able to easily manage large product volumes, generate product data automatically, operate multiple locations, and streamline your stocktake.
Online B2B portal gives your customers the ability to automate and manage their orders directly from your web portal. Customers can browse your online catalogue and place orders. You'll be able to fulfil and track your customer's orders easily, and best of all, it integrates with Cin7 Core Inventory to ensure your stock is monitored.
A key feature any dynamic organisation wants is automation. Cin7 Core gives you notifications, scheduled reporting, tasks, reminders and workflow automation.
Cin7 Core integrates with accounting apps like Xero and QuickBooks to remove the hassle of accounting data entry. Cin7 Core automatically create entries and sync invoices, bills, payments, and more, straight to the app.
Point of Sale (POS) platform integrates with the DEAR inventory. It helps with layby, account and loyalty points, refunds and returns, and cash management.
Limitations
Slow load times
Customer support is a bit slow to respond to queries. However, they often release new features to address user's needs and the software has fewer limitations than Unleashed.
The reporting is limited.
There is no shipping management feature.
Unleashed Inventory Management
Unleashed is a cloud-based inventory management platform designed for manufacturers, distributors, wholesalers, exporters and importers. It is excellent for organisations that sell through e-commerce or move bulk stock. You can fast-track all sides of your business and remove the risk that comes with a paper trail.
One distinction between Unleashed and a Point of Sale (POS) system is that with Unleashed, the goods are dispatched with a packing slip and an invoice is to be billed later. With a POS system, things are exchanged for cash.
Who is it for?
Unleashed is one of the top small-business inventory software options on the market. Best for warehousing. It is perfect for small to medium-sized businesses with 10-50 employees.
Features
Uninterrupted inventory system and reporting. The system updates in real-time so you can keep track of your profit margins without the need to do month-end journals.
Unleashed is cloud-based and accessible on your smartphone so the sales team can make sales, work efficiently, and develop relationships with the customers outside of the office.
Manufacturers can calculate the cost of the finished product through costed product assembly and disassembly, costed purchase orders and bill of materials. It also includes additional costings and taxes so that the costs involved in getting the goods to the warehouse are factored into the final costs to ensure accurate margins.
If you produce perishables, you will want to keep track of your product lifecycles and expiry dates. Unleashed makes batch tracking simple.
Unleashed also enables you to keep track of stock across multiple warehouses, in multiple locations, anywhere in the world.
Limitations
Unleashed doesn't allow bin or bay locations for you to track products in a warehouse.
Point of sale: Unleashed doesn't have payment integration. It is not designed for a retail-type environment but integrates with other POS apps.
Custom-made manufacturers: Organisations that make unique, one-of-a-kind items, such as kitchen designers, boat builders and glass manufacturers, can't load their products as there is no consistent 'recipe' for the products.
Demand forecasting: Unleashed can't accurately predict the future demand for seasonal, commodity-based or FMCG products.
Purchase order costing methods: the freight costs for products with differences in weight, size or other measurements are not assigned. By default, Unleashed assigns the freight costs by value.
Chat to the team at GPS Online if you would like to find out more about Unleashed or Cin7 Core to streamline your production process.